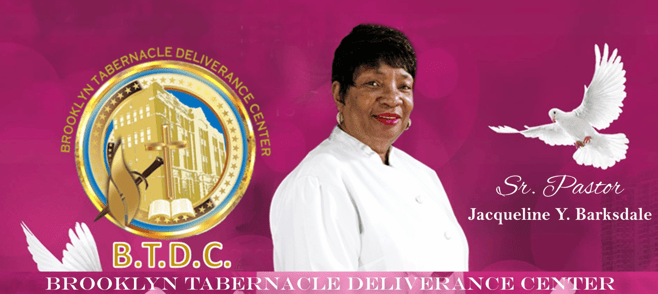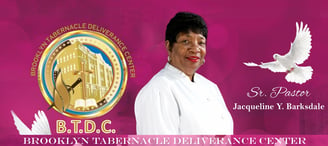 In 2015, Apostle Denson appointed Pastor Jacqueline Barksdale as Senior Pastor of the Brooklyn Tabernacle Deliverance Center.
Pastor Barksdale graduated from the Community Bible Institute & Seminary (CBI&S) with bachelor's degrees in Theology and Religious Education. She has retired from the SUNY Downstate Medical Center after 35 years of employment. Along with pastoring the church she also searches the Book of Acts and Missions at CBI&S, She has also taught at the Arthur Ashe Institute for Urban Studies.
Pastor Barksdale has been very active in outreach ministry, while employed at SUNY Downstate Medical Center, she ministered to the sick and with a team organized the Wednesday Noonday Chapel Services. Her outreach ministry covers Brooklyn, Manhattan and the Bronx. In this endeavor, she has fed the hungry, found shelter for the homeless and ministered to the youth in Spafford Youth Correctional Facility in the Bronx, and Elis McQueen Correctional Facility in Brooklyn, by teaching the youth of the love of Jesus.
Pastor Barksdale has traveled extensively with Apostle Denson as a team leader on missionary trips to India, Africa, the Philippines, Kuwait, Dubai, Liberia, Trinidad & Tobago and the United States of America.
She is the mother of two sons - Marcus and Michael - who encourage her ministry. She also has many sons and daughters in the Lord, for whom she gives God praise.
Pastor Barksdale was called by God for ministry and is still on the battlefield for Him. To God be the Glory for her call, commissions, and commitment.